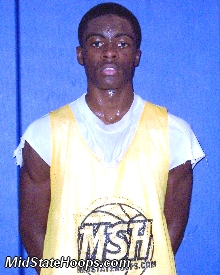 Anthony Beane, who rates among the elite players in the state of Illinois' 2012 class, has picked up his first high major scholarship offer.
Beane, a 6'2" guard from Normal Community High School, is a highly athletic scoring guard that can play both backcourt positions. He can shoot, distribute, and score off the bounce and is also an excelling defensive player.
New University of Iowa head coach Fran McCaffery extended Anthony a scholarship this past week after watching him tear it up on the travel circuit with Team Illinois this summer. He was also spectacular at Flash Flanagan's Fall Review this past month.
Arizona State, Illinois, Missouri, and Nebraska are among some of the other programs recruiting Beane. Expect his list of suitors to grow as the high school season begins.
Moussa Gueye, who rated as the state's #1 junior college freshman last season, has verbally committed to Alabama. The Lake Land College center stands 7'1" 270 lbs.
Formally committed to Valparaiso, the Senegal-native chose the Crimson Tide over the Crusaders, Texas, Indiana, and USC. Very mobile, Gueye has a good athlete with long arms and a soft touch. He's got good athleticism and can score effectively out to the three point line. Moussa is also a game changer defensively.
Gueye's decision comes after Lincoln College sophomore Kiel Turpin made his decision. The 6'11" Normal, Illinois native made a verbal commitment to Florida State University. He chose the Seminoles over offers from Alabama and USC along with interest from Illinois, Kentucky, and Mississippi State among others.
Turpin was named the NJCAA Division-II National Tournament MVP after having a strong freshman campaign. A reserve as a high school senior at Normal West High School, Kiel may be one of the most improved players on the college level, regardless of division.
Both players rate among the state's top five junior college prospects.
Lincoln Trail College isn't exactly a basketball hotbed but they have a very solid rising sophomore named Karee Ferguson.
Ferguson, who stands 6'8" 225 lbs, is a very athletic forward that runs the floor well. He's lengthy, strong, and works hard on the interior. He's a very good shot blocker and rebounder and can also finish around the rim.
"I feel my strengths are rebounding and defense," stated Karee. "I need to work on handling the ball and extending my shooting range to the three point line."
Karee mentioned Indiana State, Murray State, South Carolina State, and Southern University as schools that have shown early interest.
"I'm just looking for a school where I can get on the floor and play."
MidStateHoops.com projects the New Jersey native no worse than a solid mid major prospect. Look for him to enhance his stock throughout the course of the summer and high school season.
6'11" Lincoln College star Kiel Turpin is continuing to see his stock rise after a breakout freshman year in which he earned MVP of the national tournament after leading his team to a Division-II NJCAA championship. Turpin ranks as the #4 rising juco sophomore in the 2011 class.
Kiel is very skilled. He's long, athletic, and mobile as well which makes him a versatile offensive and defensive player. He finishes well at the rim and also has a soft touch on his midrange shot.
Turpin, Normal West High School graduate that was sparingly used during his high school days by head coach Brian Cupples and the Wildcats, received a scholarship offer from Southern Cal during the Lynx's impressive tournament run. Bowling Green and Loyola-Chicago were among the others to extend scholarship offers while DePaul, San Francisco, and Wyoming had all shown interest.
More schools have now stepped to the plate with scholarship offers for the skilled and mobile center. Florida State, Illinois State, and Southern Illinois have all extended scholarships to Kiel. In addition Alabama, California, Creighton, Kentucky, Louisville, Mississippi State, Ohio State, Purdue, and Tennessee have all shown increasing interest.
Kiel's father Mel was a standout at Kentucky and was a part of the storied 1984 NBA draft class so the Wildcats are one school that will be in great shape with Turpin.
Southern Cal and Tennessee have already received unofficial visits from the LCC standout. Look for more offers to come throughout the summer and course of the 2010-11 season.
Former Thornton Fractional North High School standout Kyle Cain has made his verbal commitment to Arizona State University. Kyle rated as one of the state's top 2009 prospects last season and one of the country's top 2010 post graduates this year.
Cain, a 6′7″ 215 lb power forward, is a high level worker with a strong motor. He's a very solid athlete, plays aggressive and finishes at the rim, and is also a strong rebounder. Though he's an interior presence he also has the ability to score by taking his opponent off the dribble. He was first discovered at the 2008 MidStateHoops.com Spring Showcase.
Kyle, who attended New Hampton Prep this season, chose the Sun Devils after being considered a West Virginia lean. He also considered Alabama, Illinois, and North Carolina after signing with both Detroit and Rhode Island earlier in his career.
Darell Blanton went under the radar this season but played well enough to earn a spot on the NJCAA All-American team.  The Kennedy King star recently announce his decision to play at Akron next season.
Blanton, a 6′3″ 200 lbs forward is a big time athlete.  He's a physical, aggressive player that is a great helpside defender and good rebounder.  He's also good scoring at the rim.  Darell averaged 18.3 points, 6.6 rebounds, and 1.5 blocks as a sophomore for the Statesmen.
Blanton is the second member of Kennedy King's 2010 squad to make a verbal commitment as Brandon Grissette has already signed with Bellevue in Nebraska.
Former Highland Community College standout D'mitri Riggs has transferred to Wabash Valley College where he will play his sophomore year.
Stan Simpson, a 6'9" University of Illinois transfer, has chosen to play at John A Logan College for his sophomore season.
Lincoln Trail star Antonio Sullivan has signed to play at Carson-Newmann College, a Division-II program based in Tennessee.
Kaskaskia forward Tyquan Brown has signed with UC-Riverside of the Big West Conference.
Kankakee stars Stefon Carson and Anthony Young have both made verbal commitments.  Carson has signed with Texas A&M-Commerce while Young pledged to Kentucky Wesleyan.
Former TF North standout Kyle Cain is currently going through his third recruiting cycle and has a feeling that this will be his last time.  The combination forward is currently a 5th year senior at New Hampton Prep and after a strong season is hearing from everyone across the country.
At 6-foot-7 Cain combines high level athleticism with both perimeter and interior skills.  He's a relentless rebounder and tireless worker on the floor and is also a excelling shot blocker with good lateral quickness.  Kyle can put the ball on the floor and finish at the rim, score with his back to the basket, and is an adequate shooter.
MidStateHoops.com first introduced Kyle at our 2008 Spring Showcase.   We reported him as a 'sleeper' prospect and now programs have finally awaken to his ability.  After committing to Detroit-Mercy as a senior he decommitted and decided to go the prep route.  Cain signed with Rhode Island in the early singing period but had a change of heart and was released from his letter of intent last month.
After posting a strong prep season plenty of schools were elated to hear about Kyle's availability and were quick to contact him, Kentucky being one of them.  Cain quickly narrowed his list to Illinois, West Virginia, Arizona State, and Alabama.  He's already taken visits to Illinois and West Virginia and is planning to take one to Arizona State in early June after the dead period concludes.
Southeastern Illinois College shocked everyone by winning the Region 24 Division-I regional tournament this past year after beating favorites John A. Logan and Wabash Valley College.  While their two top sophomores are headed to Southern Illinois University, their top freshman will return for his second year and a lot of schools are following him now.
William Kirksey, a 6′8″ 265 lbs power forward, averaged 12.7 points and 6.3 rebounds while shooting 51% from the floor last season for the Falcons.  After a strong national tournament he picked up scholarship offers from Coastal Carolina, Illinois State, Southern Illinois, and Texas Christian.
Most recently Colorado has stepped up with an offer for Kirksey.  In addition South Carolina and Washington State are very high on the skilled forward that ranks as the #5 freshman in our Illinois JUCO player rankings.
6′8″ Lincoln College star Chris Ware made a shocking decision as he's decided to sign with Division-II powerhouse Pittsburg State. Ware ranks as the #11 sophomore in Illinois according to our JUCO player rankings.
The 260 lbs post is big but light on his feet.  He's got a very soft touch and is a very good rebounder and finisher at the rim.
Ware was the leader of the Lynx's 2010 national championship team.  He averaged 14.2 points, 6.7 rebounds, and shot 58% fromt he field and 76% from the charity stripe en route to being named Region 24 DII Player of the Year and NJCAA DII First Team All-American.
Chris, who was considered a solid mid major prospect, chose the Kansas-based Division-II program over UW-Green Bay, Western Carolina, and Wright State.  His prior relationship with the school's head coach, who was Chris' coach at Cloud County CC before he transferred to Lincoln, was a key factor.