Brief thoughts from across the Pekin, Pontiac, and State Farm Holiday tournaments.
First, let's start with the most outstanding player, Jabari Parker from Simeon. Parker plays well beyond his years. He is a high I.Q. player who is very good at creating his own shot.  He is hard to defend because he can create his shot both facing the basket as well as with his back to the basket.
A couple of players to keep an eye are Darell Combes from Thornwood and Denzel McCauley from Rock Island.  Combes is a 6′1″ combo guard who is good at scoring off the dribble by either taking it all the way to the basket or pulling up and hitting the fifteen footer. McCauley is 6′8″; a big body who has his best years ahead of him. He still has a little rawness to him but runs the floor well and has decent face up skills. Once he reaches his potential, he will be a solid mid-major player.
The most underrated players were Armani Flannigan from Rockford Boylan and Max Bielfeldt from Peoria Notre Dame. Flannigan is 6′7″ senior athletic forward with great body control around the rim.  If a college can convert him to a wing forward, he is a legitimate mid-major player. Bielfeldt is a 6′8″ power forward.  How many times does Bielfeldt need to put up big numbers against good competition to get more mid-major offers? Many believe he is not athletic or explosive enough to play at a high major school, but he has good footwork and finishes well around the basket.
Other players yet to play to their full potential are Anthony Beane, Aaron Simpson, and Steve Taylor.  Beane of Normal Community is an athletic guard who has to become more patient at times and let the game come to him.  Shot selection and consistency will be key to his success as he continues to get even better.  Simpson of North Chicago has the tools to be a high major player. He has good quickness and can beat his defender with either hand but is still streaky on his outside shot. Taylor of Simeon is a 6′7″ smooth versitile forward/center.  He has a nice feel around the basket and has range out to the three point line. I have a feeling he will raise his stock quite a bit and be in the top 75 nationally by his senior year.
The most athletic player was Karrington Ward from Lockport.  Ward is a 6′5″ long forward who can jump out the gym.  He is also a track & field standout for his school and can clear 6′10″ in the high jump.
The best shooter of all the tournaments was Jack Krieger of Plainfield North.  He scored 30 points and was 5/8 from three point range in the pontiac semifinal game.
Finally, the most cerebral player was Chasson Randle from Rock Island. In the past three years I've watched Randle, I have very rarily seen him take a bad shot. He's a very good shooter and finishes well around the basket.Even as talented as he is, he doesn't force shots. Expect to see him have a great career at Stanford.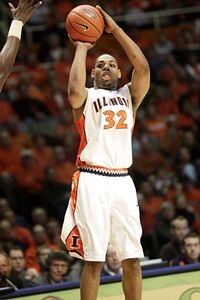 FIRST TEAM
Demetri McCamey, Illinois (Player of the Year)
Xavier Silas, Northern Illinois
John Shurna, Northwestern
Michael Thompson, Northwestern
Andrew Warren, Bradley
SECOND TEAM
Mike Tisdale, Illinois
Mike Stovall, DePaul
Ceola Clark, Western Illinois
Robo Kreps, Illinois-Chicago
Terrance Hill, Loyola-Chicago
HONORABLE MENTION (Alphabetical Order)
Justin Bocot, Southern Illinois
Jackie Carmichael, Illinois State
Drew Crawford, Northwestern
Dodie Dunson, Bradley
Carlton Fay, Southern Illinois
Jamill Harris, Chicago State
Tyler Laser, Eastern Illinois
Sam Maniscalco, Bradley
Carl Montgomery, Chicago State
Mark Yelovich, SIU-Edwardsville
ALL FRESHMAN
Jereme Richmond, Illinois (Freshman of the Year)
Brandon Young, DePaul
Meyers Leonard, Illinois
JerShon Cobb, Northwestern
Marshall Moses, DePaul
ALL NEWCOMERS (Freshman Not Included)
Jamill Harris, Chicago State (Newcomer of the Year)
Trey Blue, Illinois State
Paul Carter, Illinois-Chicago
Mykel Cleveland, Southern Illinois
Tim Toler, Northern Illinois
TOP PLAYER: Demetri McCamey, Illinois
TOP FRESHMAN: Jereme Richmond, Illinois
BEST TRANSFER: Trey Blue, Illinois State
BEST SCORER: Xavier Silas, Northern Illinois
BEST SHOOTER: John Shurna, Northwestern
BEST DEFENDER: Dodie Dunson, Bradley
BEST PLAYMAKER: Ceola Clark, Western Illinois
MOST VERSATILE: Jereme Richmond, Illinois
BEST ATHLETE: Eric Wallace, DePaul
BEST LEADER: Michael Thompson, Northwestern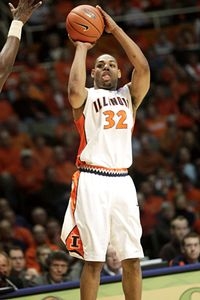 Head Coach: Bruce Weber
Conference: Big Ten
2009-10 Results: 21-15 Overall, 10-8 Conference
Key Losses: Dominique Keller 6'8" F (4.5 ppg, 2.2 rpg)
Star Power: Demetri McCamey 6'3" SR PG (15.1 ppg, 7.1 apg, 3.6 rpg);
Keep an eye on: Jereme Richmond 6'7" FR G/F;
Introduction: The Illini don't lose any of their key cogs from a year ago and have added some immediate impact talent. After a slow start they rallied near the end of the season and are hoping to pick up where they left off.
Backcourt: Demetri McCamey is the team's leader; they go as he goes. His return makes the Illini one of the top contenders for a Big Ten Championship. D.J. Richardson and Brandon Paul both had very strong freshman campaigns and though D.J. was more consistent (won Big Ten Freshman of the Year), Brandon showed great potential and will have the first starting opportunity at the third guard slot. However it may be hard for him to keep that slot with the arrival of 6'7" point-forward Jereme Richmond. Richmond is a smooth and skilled guard/forward with great court vision and outstanding versatility. If he works hard it will be tough to keep him off the floor. His approach will determine a lot at the wing as far as playing time goes for perimeter plays. 6'4" guard Crandall Head is another wing whose ability may force Coach Weber's hand for playing time. 6'5" redshirt freshman Joseph Bertrand will spare McCamey as the team's only other point guard.
Frontcourt: Mike Tisdale and Mike Davis come in as well experienced, established seniors. They complement each other very well on both ends of the floor. Tyler Griffey will play much of the same role he did last season backing up at the '4' spot. Senior Bill Cole saw his minutes increase as a junior but could very well find himself as a reserve for his senior year with the influx of new talent arriving in Champaign-Urbana. 7'0" Meyers Leonard brings size and athleticism to the table. He has more potential than any of the team's current frontcourt members and will be given time to adjust to the collegiate level as a freshman which should springboard him into a strong sophomore season.
Overview: Talent is not a question for the Illini. If they are able to keep the guys in their backcourt happy then the immediate and distant futures are both VERY bright for Coach Weber and company. They will need to play with more consistency than last season but if they can have a late run again than they could get very far in the NCAA tournament.
Projected Starters:
G – Demetri McCamey 6'3" SR
G – D.J. Richardson 6'4" SO
G – Jereme Richmond 6'7" FR
F – Mike Davis 6'10" SR
C – Mike Tisdale 7'1" SR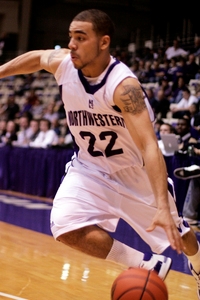 Head Coach: Bill Carmody
Conference: Big Ten
2009-10 Results: 20-14 Overall, 7-11 Conference
Key Losses: Kevin Coble 6'8" PF (15.5 ppg, 4.8 rpg, 2.5 apg in 2008-09); Jeremy Nash 6'4" G (8.9 ppg, 3.8 rpg, 3.1 apg);
Star Power: John Shurna 6'8" JR PF (18.2 ppg, 6.4 rpg); Michael Thompson 5'10" SR PG (9.9 ppg, 3.7 apg);
Keep an eye on: JerShon Cobb 6'5" FR SG;
Introduction: Bill Carmody's team was almost a surefire bet for the NCAA tournament before Kevin Coble decided to forego his final season. Now, the Wildcats aren't as strong before but still return most of their major cogs from 2009-10 with more experience and a dire hunger to get to the field of 68.
Backcourt: The success of this team starts with Michael "Juice" Thompson. He may not get the respect he deserves nationally but, for the past three years, Juice has been one of the top point guards in the Big Ten and, barring injury, nothing will change this coming season. He's a confident floor leader who shows what it means to be a true point guard. He sets his teammates up, knocks down open shots, brings energy defensive, and most importantly he leads vocally and by example. He will go down as one of the best point guards in Wildcat history. His importance to the team and program cannot be stressed enough. Drew Crawford had a very strong freshman year as the team's second leading scorer. He's a big guard with a high IQ and a very consistent three point shot. The 6'5" shooter started every game last season. Freshman JerShon Cobb could have a similar impact as a newcomer that Crawford did. The highest rated recruit in Carmody's tenure, he's a slender guard that brings athleticism and scoring ability to the team. Jeff Ryan, who used a medical redshirt last season, is an experienced and versatile perimeter player that could start or provide solid backup minutes at the wing, or even the point if needed (Thompson averaged just under 38 minutes per game last season). Alex Marcotullio is a combo guard that will see minutes at both guard slots when necessary. He will likely take over at the point when Thompson is gone. In-state players Mike Capocci and Nick Fruendt add depth to the wings.
Frontcourt: John Shurna may have had a bigger breakout year than anyone in the country last season. He more than doubled his scoring and rebounding output from his freshman year and knocked in a team high 78 3's. He also spent July with the U.S. Select team practicing against the superstars from the U.S.A. FIBA team. He emerged as the team's go to scorer and is one of the top returning players in the Big Ten. Luka Mirovic has a strong sophomore year, averaging 7.3 ppg and 5.7 rpg. If he can stay out of foul trouble expect him to be even more productive. Expect classmate Davide Curletti to back Mirovic at the 5 spot. At 6'9" he's a lethal three point shooter which gives Northwestern another look. 6'8" senior Ivan Peljusic also adds depth.
Overview: This could be a great year for the Wildcats if the injury bug can stay out of Evanston. They have the size, the skill, the experience, and the discipline to take this program to its first NCAA appearance in years!
Projected Starters:
G – Michael Thompson 5'10" SR
G – JerShon Cobb 6'5" FR
G – Drew Crawford 6'5" SO
F – John Shurna 6'8" JR
C – Luka Mirkovic 6'11" JR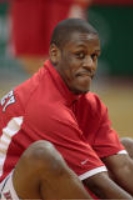 Head Coach: Jim Les
Conference: Missouri Valley
2009-10 Results: 16-15 Overall, 9-9 Conference
Key Losses: Chris Roberts 6'4" F (9.2 ppg, 4.6 rpg, 2.2 apg)
Star Power: Sam Maniscalco 6'0" SR G (13.1 ppg, 3.4 apg, 2.7 rpg)
Keep an eye on: Dodie Dunson 6'3" SR G (10.1 ppg, 2.8 rpg, 1.3 apg in 2008-09)
Introduction: The Braves return most of their key guys from last season and add an experienced medical redshirt back which gives them the talent. However the team had heavy struggles in the locker room last season. After starting strong with a win of University of Illinois Bradley crumbled on the floor and tried to resurrect issues by cleaning house with their assistants.
Backcourt: Sam Maniscalco was an All-MVC selection as a junior and has been a favorite of Coach Les' since his arrival on campus. Expect him to be one of the main perimeter focuses on the perimeter. Andrew Warren, the team's leading scorer this past year, brings good size and shooting ability to the wing and should be in for a strong senior season. Look for redshirt senior Dodie Dunson to make a big splash with his return. Dunson was one of the leading scorers for the Braves in the 2008-09 season until a broken wrist limited his production the final seven games of his junior campaign. A defensive stopper, he would give Bradley a big boost if he could pick up where he left off last season before breaking his forearm in the second half against Idaho State (scored 16 points in just 20 minutes of action). Dyricus Edwards will be a good backup as a sophomore. He's physical, athletic, and fearless at both ends. He'll likely get a few starting assignments as well. The Braves are hoping Jake Eastman could develop into a reliable outside threat this season and, though he may not be needed because of established depth, Walter Lemon's athleticism could inject him into the rotation.
Frontcourt: Will Egolf and Taylor Brown have established their positions in the frontcourt though maturity issues have sometimes gotten the better of Brown. However the two complement each other well as Taylor is a versatile athlete and Egolf can score around the rim. Milos Knezevic saw limited minutes as a freshman and could see his time increase as could 6'11" Anthony Thompson depending on the readiness of 6'8" redshirt freshman Jordan Prosser. A highly recruited post, Jordan is skilled with a soft touch but aggressiveness has been an issue. 6'10" prep product Andrew Davis is skilled but it is uncertain how ready he will be to contribute next season.
Overview: If the Braves can overcome the inner squad issues they faced last season they have a chance to be pretty good considering they have a solid, experienced 6-man core. Coach Les seems to be on the hot seat but could turn it around with a winning season this coming year.
Projected Starters:
G – Sam Maniscalco 6'0" SR
G – Dodie Dunson 6'3" SR
G – Andrew Warren 6'6" SR
F – Taylor Brown 6'7" JR
C – Will Egolf 6'9" JR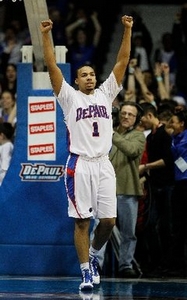 Head Coach: Oliver Purnell
Conference: Big East
2009-10 Results: 8-23 Overall, 1-17 Conference
Key Losses: Mac Koshwal 6'10" C (16.1 ppg, 10.1 rpg, 1.8 spg); Will Walker 6'0" PG (16.2 ppg, 2.6 apg);
Star Power: Mike Stovall 6'5" G/F (7 ppg, 2.9 rpg);
Keep an eye on: Brandon Young 6'3" FR PG;
Introduction: Oliver Purnell is known for his running and aggressive defensive style. His gameplan is more suitable for this DePaul team, a team that played a slow-paced game last season ending in a 1-17 conference record. Had he been there this past season, some feel, the Blue Demons may have been able to be respectable competitors in the Big East Conference. He's looking to turn the program back around and bring the name back to respectability.
Backcourt: Jeremiah Kelly has been the point guard the past three seasons for the Blue Demons. He's a steady guard was solid on both ends of the floor though his jumpshot was a bit inconsistent. Michael Bizoukas fought through injuries and is seeking a healthy season. He's a tough, gritty point that gets it done defensively. Though both Kelly and Bizoukas are experienced, freshman Brandon Young has the ability to take over the point guard slot. He's a legitimate high major guard that is capable of scoring and defending. Young is a legitimate floor general that can run the show. Mike Stovall, who is the team's leading returning scorer, is a lengthy, athletic guard with great versatility. He can rebound, defend, and has the scoring ability to develop into the team's go-to-guy. Eric Wallace has unmatched athleticism. At 6'6" 232 lbs he's a mix of pure athletic ability and great physical strength. Purnell's style should take full advantage of Wallace's ability in the open court. He could also turn into a big time defender and rebounding weapon from the perimeter. Freshman wing Moses Morgan is a very good shooter whose jumper will likely earn him big minutes from the get go. He's skilled with a very nice stroke from 3.
Frontcourt: Devin Hill is the top post coming back. An inside out 4-man, Hill can score inside or on the perimeter and has excellent length for rebounding and blocking shots. He will, however, need to improve his shot selection. Cleveland Martin is an athletic forward who could prove to be a big pickup for Coach Purnell in his running system. He's active, rebounds, and is a capable difference maker with his ability to block or change shots defensively. 6'6" Tony Freeman is an aggressive combo forward that will see time at the 3 and the 4. He's an aggressive player that really attacks the glass, especially offensively. Senior Mario Stula is a shooter who will see him minutes increase when he gains consistency with his stroke. In the middle 6'11" junior Krys Faber returns with some good experience due to Mac Koshwal's injury last season. He's physical and looks to rebound the ball which is what the Blue Demons need inside. Kene Obi must get in better shape. If he does the 7'2" project could see minutes down the road.
Overview: On paper this team may not look very tough but with the new style they have the potential to surprise many doubters this coming season.  This may not be an overall amazing year for DePaul but, in comparison to recent years past, it could be a very, very good one. The talent is there. Coach Purnell will be able to utilize this team's athleticism and versatility to cast the first stone to a, hopefully, successful legacy for himself in Chicago.
Projected Starters:
G – Brandon Young 6'3" FR
G – Moses Morgan 6'5" FR
G – Mike Stovall 6'5" SR
F – Devin Hill 6'9" JR
C – Krys Faber 6'11" JR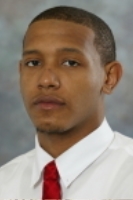 Head Coach: Tim Jankovich
Conference: Missouri Valley
2009-10 Results: 22-11 Overall, 11-7 Conference
Key Losses: Osiris Eldridge 6'3" G (15.5 ppg, 4 rpg, 2.5 apg); Dinma Odiakosa 6'8" C (12.8 ppg, 8.7 rpg); Lloyd Phillips 5'10" G (10 ppg, 4.2 apg, 2.1 rpg); Kellan Thornton 6'7" F (4.0 ppg, 3.2 rpg);
Star Power: Jackie Carmichael 6'10" FR PF/C (6.8 ppg, 4.1 rpg);
Keep an eye on: Trey Blue 6'3" SO G; John Wilkins 6'9" SO F;
Introduction: The Birds didn't meet expectations last season but they were still solid. They've loss one of the school's all-time greats in Osiris Eldridge and have loss, what many consider, their other two best players from a season ago. However, Coach Jankovich and staff have rebounded well with recruiting and have put their returners in good position.
Backcourt: Austin Hill, Alex Rubin, and Justin Clark all bring back good experience. Hill is a defensive stopper with great toughness as an off guard while Rubin is a fundamentally sound combo guard. Clark had what some might consider a disappointing freshman year but expect him to bounce back strong. He's a big wing with a nice stroke and now knows what to expect at the Division-I level. Kenyon Smith and Anthony Cousins are two junior college transfers with three years of eligibility remaining. Cousins is a high level shooting combo who will replace Terry Johnson (who transferred to UW-Green Bay after his freshman season) while Smith is a point guard that led his JUCO team to a Division-II national championship. He's a great leader and a defensive stopper. Due to a lack of perimeter scoring last season he was forced to shoot the ball a lot but will play more of a distributing role for the Redbirds. All these guys are solid, however, the guy to watch is Fordham transfer Trey Blue. Trey, who averaged 8.2 ppg, 2 rpg, and 1.3 apg as a freshman during the 2008-09 season, is a quick, strong combo guard that handles the ball very well and can also distribute it. He has a high IQ and is an outstanding 3-point shooter. He has the ability to earn Newcomer of the Year praises in the Missouri Valley.
Frontcourt: Jackie Carmichael showed great potential as a freshman. He's long, athletic, and very skilled at 6-foot-10. Expect a lot of the offense to be ran around him as he's developed beyond his years at this point. Tony Lewis is a physical, powerfully built 4-man that can shoot it or bang inside. John Wilkins is considered, by many, as the biggest recruit the Redbirds have landed this decade. Wilkins is a skilled, lengthy, and athletic forward that can beat you from multiple spots on the floor. The son of Redbird great Jeff Wilkins, John shunned multiple BCS scholarships to play for ISU including Indiana, Iowa State, and Providence. Versatile and skilled, he's an offensive talent with a lot of raw ability. Jordan Threloff could be a serviceable backup to Carmichael and maybe even play with him in a bigger lineup. He's got good tools but needs some developing. Redshirt freshmen Jon Ekey and Zeke Upshaw are two different types of combo forwards, Ekey being a skilled shooter and Upshaw being a raw athlete (though his skills have progressed). Ekey has been impressive throughout the preseason and could steal minutes from one of the previously mentioned players.
Overview: There will be some competitive practices in Normal, Illinois. The ISU staff have put themselves in great position considering what they've loss. They are certainly one of the best teams in the Missouri Valley in terms of pure talent.
Projected Starters:
G – Kenyon Smith 6'0" JR
G – Alex Rubin 6'3" SR
G – Trey Blue 6'3" SO
F – Tony Lewis 6'7" SR
C – Jackie Carmichael 6'10" SO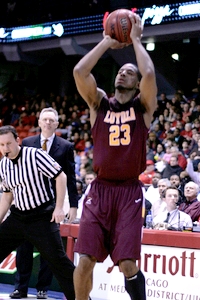 Head Coach: Jim Whitesell
Conference: Horizon
2009-10 Results: 14-16 Overall, 5-13 Conference
Key Losses: Marcus Thomas 6'2" SG (6 ppg, 1 rpg); Aric Van Weelden 6'3" G (3.4 ppg, 2.2 rpg)
Star Power: Terrance Hill 6'4" SR SG (11.4 ppg, 4.5 rpg); Geoff McCammon 6'4" SR SG (10.8 ppg, 2.1 rpg);
Keep an eye on: Jordan Hicks 6'6" JR SF (2.5 ppg, 2.7 rpg);
Introduction: Coach Whitesell turned out a solid season at just under .500 and returns five starters along with some key reserves and a junior wing that was plagued by injuries most of last season.
Backcourt: Courtney Stanley is the team's loan experienced point guard. He's a skilled floor general with a steady handle and returns more seasoned. Redshirt freshman Gabe Kindred spent a season studying Stanley and learning the Ramblers system so he should provide solid backup minutes at the 1. Terrance Hill and Geoff McCammon are two big wings that had breakout junior campaigns. They took to their roles well and came up as big scorers throughout last season. Both are solid athletes and reliable shooters which gives the Ramblers two steady options at the wing. Jordan Hicks, a part time starter as a freshman, saw his role decreased due to injuries but is hoping to be back at full strength. He's got great size at the 3 and could be a breakout performer. Senior Ryan Sterling and freshmen Denzel Brito and Chim Kadima add depth to the perimeter.
Frontcourt: Andy Polka returns as one of the country's best rebounders at just under 9 per game. He's is strong, physical interior presence that doesn't backdown from a challenge. Ben Averkamp also returns as one of the Ramblers' starting posts after a solid showing as a freshman. Though he was a reserve, junior Walt Gibler was the team's second leading scorer this past season with 11.3 points per game. He brings energy and finish ability around the rim. Freshman Jonathon Gac is a local who has good size but may need time to adjust to the Division I level. John Benkoske, Tom Neary, and Shaun Adams add depth inside.
Overview: Expect Loyola to be near the top of the Horizon League conference with the experience and talent that they return. If either McCammon or Hill can arise as a go-to-scorer then they will have all the components they need to have a very strong season.
Projected Starters:
G – Courtney Stanley 6'1" JR
G – Terrance Hill 6'4" SR
G – Geoff McCammon 6'4" SR
F – Andy Polka 6'7" SR
F – Ben Averkamp 6'8" SO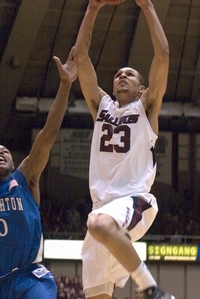 Head Coach: Chris Lowery
Conference: Missouri Valley
2009-10 Results: 15-15 Overall, 6-12 Conference
Key Losses: Kevin Dillard 5'11" PG (12.3 ppg, 5 apg, 3.1 rpg); Tony Freeman 6'0" G (11.8 ppg, 3 rpg, 2 apg); Anthony Booker 6'8" PF (6'4 ppg, 4.1 rpg);
Star Power: Justin Bocot 6'4" SR SG (9.1 ppg, 3.6 rpg, 1.2 apg);
Keep an eye on: Diamond Taylor 6'4" FR G;
Introduction: The loss of star Kevin Dillard and classmate Anthony Booker marked the end of an era according to Coach Lowery. It's back to the 'Floorburn U' style Saluki ball. For his sake hopefully he's right because SIU fans have grown tired of seeing the 'soft product' the Carbondale product has put on the floor in recent years.
Backcourt: Justin Bocot has two years under his belt as a part time starter for the Salukis. He's been through a lot of ups and downs and, now, the scoring guard is ready for his role as the go to guy. Though he is a natural shooting guard he's a bit of a loose ball handler so Coach Lowery may have to play Justin at the '3' this year unless he tightens his handle. Kendall Brown-Surles played well as a freshman and his experience will be a key no matter if he is a starter or a reserve. John Freeman is an athletic, hard working wing that rebounds well from the perimeter and plays the role of defensive stopper. Jae Crowder is another physical wing that attacks the glass. Junior college transfer Mykel Cleveland is a stead point guard that plays within himself and locks down defensively. He is a classic Salukis point guard. Fellow junior JUCO transfer Troy Long is a combo guard that can light it up from 3. Wisconsin transfer Diamond Taylor is a highly rated scorer that could be a gem if he finds his niche in Lowery's system.
Frontcourt: Carlton Fay is very seasoned and will look to be the team's premier forward. He could play the '4' or the '5' depending on who is joining him on the frontcourt during the stretch. The return of 6'9" sophomore Gene Teague is a good one for the Salukis as the center showed promise as a freshman. 6'7" JUCO transfer Mamadou Seck may have the biggest impact of all the newcomers as he has most the traits of a blue collar Saluki forward. He's a tireless worker that attacks the glass and plays aggressively on both ends. He's raw and limited in the skills department but gets a lot of baskets off second chance points and running the fast break. He's known for being the first guy back offensively after rebounding the basketball on the defensive end. Ernest Watson is a versatile forward with two years remaining while Davante Drinkard is a glass cleaning freshman. Both could earn significant reserve minutes. Redshirt freshman Jordan Myers will also serve as a reserve but at the center position. Senior walk-on Nate Mitchell earned major minutes late in his junior year and will again challenge for time with his work ethic.
Overview: If Lowery wants to go back to the rough, rugged style SIU used to play then he's added the correct pieces to do so. If he pushes it and the teams buys into the system then the Salukis could surprise a lot of teams this coming season.
Projected Starters:
G – Mykel Cleveland 6'2" JR
G – Kendall Brown-Surles 5'9" SO
G – Justin Bocot 6'4" SR
F – Carlton Fay 6'8" SR
C – Gene Teague 6'9" SO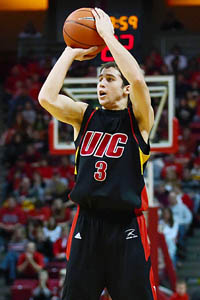 Head Coach: Howard Moore
Conference: Horizon
2009-10 Results: 8-22 Overall, 3-15 Conference

Key Losses: Jeremy Buttell 6'7" PF (12.2 ppg, 7.5 rpg); Spencer Stewart 6'4" G (5.2 ppg, 4.9 apg);

Star Power: Robo Kreps 6'2" SR G (15.2 ppg, 3.9 rpg, 2.1 apg)
Keep an eye on: Daniel Barnes 6'2" JR G; Paul Carter 6'8" SR PF;
Introduction: The Flames have had their first coaching change in 14 years so the operation of the team will be very different. Former Wisconsin assistant Howard Moore is very connected in the Chicago area and has good experience. This could turn out to be a solid year for the Chicago-based school.
Backcourt: Kreps and Zavion Neely were very solid last season. Add in junior college transfer Daniel Barnes and you've got a stellar backcourt. All three guards can shoot the ball as well as distribute it when necessary. 6'6" Anthony Kelley is a big guard that struggled with his shooting as a freshman but he's got a nice frame and could be effective as a role player. Freshman Shawn King is another guard in the mold Kelley but his ball handling could help him to play a more significant role. Corey Gray adds depth to the point guard position.
Frontcourt: K.C. Robbins and Brad Birton return for the Flames in the post. At a solid 6'11" 270 lbs, Robbins can eat a lot of space and grab rebounds as well. The 6'7" Birton also returns after starting 17 or 24 games. Minnesota transfer Paul Carter is expected to have a big impact on the program. He's a high level rebounder and can finish at the rim. He's long and athletic and will be one of the premier forwards in the Horizon League. The Flames dipped in the junior college ranks for three other post players as well including 6'6" Paris Carter, 6'9" Dorian Tyler, and 6'9" Darrin Williams. Carter is a physical, high level athlete that rebounds his tail off. Though a tad undersized, he plays with power and finishes above the rim. Freshman Eddie Denard is versatile and could see minutes at the 3 and the 4 spot.
Overview: Coach Moore has good talent to work with and a lot of passion. The Flames are pretty athletic this year, feature three experienced guards, and are very good on the interior. They should be in the top half of the Horizon League this coming season.
Projected Starters:
G – Zavion Neely 6'1" JR
G – Robo Kreps 6'1" SR
G – Danny Barnes 6'2" JR
F – Paul Carter 6'8" SR
F – K.C. Robbins 6'11" SR