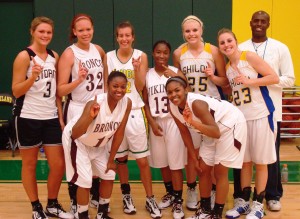 Parkland College played host to the second annual MidStateHoops.com All-Star Games this past saturday. Like last year, the action was fast-paced. Both games were filled with excitement that culminated in overtime finishes.
In the girls game, the tone for the day was set early with the West jumping out to an early lead. Normal Community's Hailey Varner and Unity's Lauren Grubb set the pace early with 7 and 8 first-half points. Judah Christian's Uzuri Williams and Olney's Ebany Brumfield also established themselves in the paint area, scoring 8 and 7 points a piece.  The East would battle back led by Montini's duo of Whitney Holloway and Whitney Adams. Shiloh's Lauren Bogle also made her presence felt as she scored all of her 7 points in the half.
The East still faced a 4 point deficit going into the second half. They quickly switched to a full court defense that would turn the tide of the game. Danville's Eriel Davis and Keisha Liggins forced turnovers and helped the East quickly gain the lead. A combination of scoring from Davis and Holloway dominated the second half. They were matched by a balanced West team lead by Normal West's Lexie Taylor and Anna-Jonesboro's Destiny Dillow. Cissna Park's Taylor Redeker also knocked down some key free throws for the West. After a forced turnover, Lindsey Grubb hit a big 3-pointer in the final seconds to force overtime.
The overtime period saw Montini's stars take over the game. Whitney Holloway and her teammate Whitney Adams put the game out of reach for a 92-84 victory for the East. Whitney Holloway was named Most Outstanding Player finishing with a game high 32 points.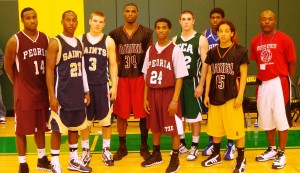 The second game was a high scoring affair that managed to outpace even last year's counterpart. Bloomington's TJ Riggs and his Bloomington Teammate Jeremy McDavis got the West going early as they jumped out to an early lead. McDavis scored all 8 of his points in the first half.  He was quickly joined by Urbana's Deonta Jones and Rantoul's Shawn Lauderdale who both put up 11 first-half points. Manual's Andrew Jordan and Central Catholic's Ryan Schmidt worked hard to keep the East in the game as the West went up 68-60 at halftime.
In the second half the East mounted a comeback thanks in large part to Peoria Central's Darian White and Deontray Dorsey. Levi Williams also played with strong dribble penetration and created for his teammates. For the Eest, Lawrence Kinney and Cole Jackson established themselves with strong outside shooting. As regulation came to an end, Ryan Schmidt hit a big 3-pointer to tie the game, and eventually sent it to overtime.
The game remained close in overtime. Timely shooting from Dalton Temples of Paris and gutsy play from Blue Ridge's Jack Plunk were not enough to defeat the West 129-125. Darian White was the game's high scorer with 36 points, and was named Most Outstanding Player.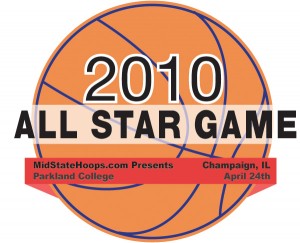 The first MidStateHoops.com All-Star Games were held this past Saturday at Parkland College in Champaign, Illinois. Both games were entertaining affairs that showcased some of the state's top senior talent.
In the girls game, Decatur McArthur star Miranda Murray got off to a hot start for the South team by draining three 3-pointers in the first quarter. Murray would remain hot throughout, finishing with 23 points. Playing for the North, Brittany Cochran(11 points) of Chicago Bogan and Kristi Schmidt of Normal also got off to a fast pace which she would maintain for the duration of the game as she scored 10 of her game leading 29 points in the first quarter. At halftime the score was 39-37 in favor of the South.
The South broke away to start the second half with contributions from Champaign Central's Kierra Robinson and McArthur's Lexy Carson at one point leading by 10. But just as soon as the lead was gained, the North recovered led by Schmidt and her Normal teammate Molly Etheridge. The score was 56-55 going into the fourth quarter.
The North continued to apply pressure in the fourth quarter. Led by Bolingbrook's Mercedes Griffin who scored 9 points in the quarter and Decatur Eisenhower's Tiara Thomas. Ultimately 7 points in the quarter by Rantoul's April Barnett and five from Fisher's Savannah Piety were enough to help the South hold on for an 81-77 victory. Miranda Murray was named Most Outstanding Player.
After a close first game, the boys were ready to match intensity and both sides came out firing. The South established an interior presence early with 8 first quarter points from Nathan Haynes and Edwind McGhee. Darren Price also scored 6 of his total 8 points during the quarter as the South finished up 34-26.<
The second quarter saw a turn of events as the North got big contributions courtesy of outside shooting from Peoria Height's James Todd(20points) and a little bit of everything from Glenbard North's James Fleming(36 points). Champaign Centennial's Tiger O'Neil stepped up for the South in the quarter scoring 10 points of his own as he would finish with 21 for the game.
The second half would be a battle as neither team was willing to give any ground. Normal West's Tyler Bell asserted himself on offense by aggressively driving to the rim and converting on scoring opportunities. He would score 23 of his total 29 points in the half. Urbana's Javarius Gay also came up big with 8 second-half points. Peoria Manual's Jordan Johnson scored 12 of his 16 points in the half. Down the stretch Grayslake Central's Cameron Nelson found his way to the line and sank 3 big fourth quarter free throws.
A fever finish forced the game into overtime. Jeff Todd scored 3 points including a key free throw as the North squeaked out a 122-120 victory. James Fleming was named the game's Most Outstanding Player.
The final week of the 2009 MidStateHoops.com Fall Program was hotly contested. All league participants were looking to end the season on a high note with a championship victory. Opening round action saw Team 5 led by Marvin Jordan square off with a balanced Team 6 fresh off of their first victory of the season a week prior to the same Team 5. Jordan led all scorers with 20 points followed by 15 from his teammate Thomas Lohmann. Big man Nate Haynes matched Lohmann's 15 for Team 6 as did Cole Jackson. Team 5 also got strong contributions from Nathan Ropp, Taylor Baxter, and Michael Berg. However, the balanced attack from Chris Bryson(7 points), Bryce Bronke(10 points), and Anthony Beane(10 points) gave them the final edge 65-58.
The next game was also close. For Team 2, Danny Olson put in an impressive performance and was the game's leading scorer with 18 points. Gerald Miller followed close behind with 15 points and Javarius Gay(9 points), Hank Matthews(8 points), and Levi Stephens(7 points) all provided strong support from the guard positions. However, Team 4 was supported by 17 points apiece from Jacoby Roddy and Tony Banks in addtion to 9 points from Aaron Catterall and 12 points from rising freshman Ricky Carter to give them a 64-59 win.
In the first semi-final game. Team 6 continued to play well. Kevin Jordan went to work in the post and finished with a team high 12 points. Cole Jackson scored 11 points and Bryce Bronke and Chris Bryson both finished with good 8 point performances. The well-rested #2 seeded Team 3 led by Tylon Deal was too much though. Deal did most of the damage scoring 26 points. DJ McDowell(6 points), Reid Farchmin(6 points), Dylan Sparkman(6 points), and Nick Hoepfner(5 points) helped secure the 66-57 victory en route to the championship game.
The second semi-final was evenly matched. Devon Swart paced Team 4 early with two quick baskets. Swart would finish strong with 10 points. Tony Banks and Jacoby Roddy each scored 16 points as the score was 44-43 after 3 quarters of action. The fourth quarter saw a great finish as Team 5 squeaked out a close 63-58 win. Trey Kellum put in his best performance of the season finishing with 19 points. Andrew Jordan(12 points), and Lawrence Alexander(15 points) helped to insure victory and a championship bid.
The top seeds squared off for the championship crown. Team 3 kept it close early and the score was 38-34 at halftime. As the third quarter started, Team 5 began to assert themselves starting with strong defense from the likes of Levi Williams and Jerrell White, converting on open court transition opportunities as they broke the game wide open. Team 3 soon became overpowered despite strong efforts from Tylon Deal(26 points), Nick Hoepfner(10 points), and Reid Farchmin(10 points). Team 5 triumphed on the heels of 24 points from Lawrence Alexander, 19 points from Andrew Jordan, 16 points from Jeff Stokes, and 10 points from Xavier Conwell. The final score was 87-68.
MidStateHoops.com would like to thank all of the coaches and other volunteers who took the time to invest in the players and youth of their community. Without you the league would not have been a success. Thank you for a great year.
Week 4 started out with Team 6 finally finding their rhythm as a cohesive unit. Chris Bryson played very well as he provided energy from the beginning and finished with 10 points. As always Team 6 was balanced in the scoring department. Bryce Bronke(9 points) and Cole Jackson(8 points) provided an outside punch along with Bryson. Inside, Nathan Haynes(7 points) and Kevin Jordan(10 points) were too much for Team 1the opposition. Thomas Lohmann(15 points) was the leading scorer for the shorthanded Team 1. Nate Gosnell(8 points) and Michael Berg(9 points) also played well in their 54-41 defeat.
In the second game, Team 3 overpowered Team 4 from start to finish. Tylon Deal led all scoreres with 17 points. Shaquille Lowery followed that up with 8 points. Additionally,  Dylan Sparkman, Mitch Wright, Nick Hoepfner, and Reid Farchmin all played well. Tony Banks scored 13 points to lead Team 4. Jacoby Roddy, Devon Swart, Ricky Carter, and Danny Harman all contributed in the effort that resulted in a 53-32 win for Team 3.
The final game saw Danny Olson emerge to the tune of 16 points for Team 2. Gerald Miller continued his string of consistent play during the league scoring 15 points of his own. Jared Dehm, Will Fernandez, and Hank Matthews all made strong contributions as well for the shorthanded team.  Team 5 came out pushing the pace from the beginning and never looked back. Lawrence Alexander lead all scorers on the day with 23 points. Andrew Jordan(13 points) had a number of high flying alley-oops from Jerrell White. Trey Kellum(13 points) and Darian White(9 points) both helped balance out the attack.
Week 3 brought another exciting slate of games to the Carver Center in Peoria. The day's opening game saw Andrew Jordan score a day high 18 points for Team 5. Jeff Stokes also contributed 12 points and Xavier Conwell and incoming freshman Alex Perry both made strong contributions with 5 points a piece. The game was close from start to finish but ultimately 12 points each for Reid Farchmin and Tylon Deal and support inside form Nick Hoepfner boosted Team 3 to a 46-43 victory.
Game Two saw Team 2 in command for much of the contest with Team 6 keeping things close throughout the duration. For Team 2, Javarius Gay had a breakout performance. He made play after play for his team on both ends of the floor as he led them from his point guard position. Gay finished with 12 points that were matched by 12 points by Max Bielfeldt. Team 6 featured a balanced attack lead by 10 points from Nathan Haynes. Anthony Beane(6 points), Bryce Bronke(7 points), and Cole Jackson(8 points) all played well. Big man Kevin Jordan showed good potential for growth on the floor and could really be a force with proper coaching. In the end additional contributions of 9 points from Hank Matthews and 8 points from Gerald Miller gave Team 6 a 51-44 victory.
In the final game of the day, Danny Harman emerged onto the scene for Team 4 dropping 17 points. He showed his shooting skills by scoring from all over the floor including three 3-pointers. Eighth grader Lecarre Crawford played well once again contributing 10 points that were matched by 10 points from Jacoby Roddy who was active on the boards and defensively on the interior as he swiped away several drive attempts. Despite the strong play of those three players, Team 1 had too much fire power on the heels of 17 points from Ball State recruit, Marvin Jordan. An impressive performance from Brandon Fisher(10 points) and Taylor Baxter(13 points) were enough to give Team 1 an edge for the 54-51 victory.