Illinois D1 Team Previews: 1. University of Illinois Fighting Illini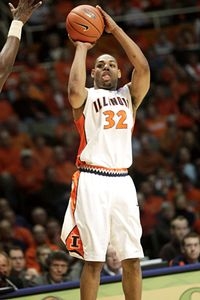 Head Coach: Bruce Weber
Conference: Big Ten
2009-10 Results: 21-15 Overall, 10-8 Conference
Key Losses: Dominique Keller 6'8" F (4.5 ppg, 2.2 rpg)
Star Power: Demetri McCamey 6'3" SR PG (15.1 ppg, 7.1 apg, 3.6 rpg);
Keep an eye on: Jereme Richmond 6'7" FR G/F;
Introduction: The Illini don't lose any of their key cogs from a year ago and have added some immediate impact talent. After a slow start they rallied near the end of the season and are hoping to pick up where they left off.
Backcourt: Demetri McCamey is the team's leader; they go as he goes. His return makes the Illini one of the top contenders for a Big Ten Championship. D.J. Richardson and Brandon Paul both had very strong freshman campaigns and though D.J. was more consistent (won Big Ten Freshman of the Year), Brandon showed great potential and will have the first starting opportunity at the third guard slot. However it may be hard for him to keep that slot with the arrival of 6'7" point-forward Jereme Richmond. Richmond is a smooth and skilled guard/forward with great court vision and outstanding versatility. If he works hard it will be tough to keep him off the floor. His approach will determine a lot at the wing as far as playing time goes for perimeter plays. 6'4" guard Crandall Head is another wing whose ability may force Coach Weber's hand for playing time. 6'5" redshirt freshman Joseph Bertrand will spare McCamey as the team's only other point guard.
Frontcourt: Mike Tisdale and Mike Davis come in as well experienced, established seniors. They complement each other very well on both ends of the floor. Tyler Griffey will play much of the same role he did last season backing up at the '4' spot. Senior Bill Cole saw his minutes increase as a junior but could very well find himself as a reserve for his senior year with the influx of new talent arriving in Champaign-Urbana. 7'0" Meyers Leonard brings size and athleticism to the table. He has more potential than any of the team's current frontcourt members and will be given time to adjust to the collegiate level as a freshman which should springboard him into a strong sophomore season.
Overview: Talent is not a question for the Illini. If they are able to keep the guys in their backcourt happy then the immediate and distant futures are both VERY bright for Coach Weber and company. They will need to play with more consistency than last season but if they can have a late run again than they could get very far in the NCAA tournament.
Projected Starters:
G – Demetri McCamey 6'3" SR
G – D.J. Richardson 6'4" SO
G – Jereme Richmond 6'7" FR
F – Mike Davis 6'10" SR
C – Mike Tisdale 7'1" SR