Overtime Excitement at 2011 MSH All-Star Game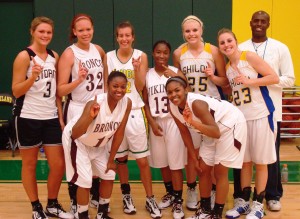 Parkland College played host to the second annual MidStateHoops.com All-Star Games this past saturday. Like last year, the action was fast-paced. Both games were filled with excitement that culminated in overtime finishes.
In the girls game, the tone for the day was set early with the West jumping out to an early lead. Normal Community's Hailey Varner and Unity's Lauren Grubb set the pace early with 7 and 8 first-half points. Judah Christian's Uzuri Williams and Olney's Ebany Brumfield also established themselves in the paint area, scoring 8 and 7 points a piece.  The East would battle back led by Montini's duo of Whitney Holloway and Whitney Adams. Shiloh's Lauren Bogle also made her presence felt as she scored all of her 7 points in the half.
The East still faced a 4 point deficit going into the second half. They quickly switched to a full court defense that would turn the tide of the game. Danville's Eriel Davis and Keisha Liggins forced turnovers and helped the East quickly gain the lead. A combination of scoring from Davis and Holloway dominated the second half. They were matched by a balanced West team lead by Normal West's Lexie Taylor and Anna-Jonesboro's Destiny Dillow. Cissna Park's Taylor Redeker also knocked down some key free throws for the West. After a forced turnover, Lindsey Grubb hit a big 3-pointer in the final seconds to force overtime.
The overtime period saw Montini's stars take over the game. Whitney Holloway and her teammate Whitney Adams put the game out of reach for a 92-84 victory for the East. Whitney Holloway was named Most Outstanding Player finishing with a game high 32 points.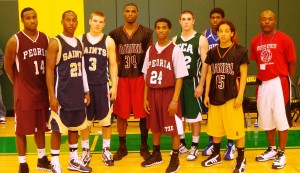 The second game was a high scoring affair that managed to outpace even last year's counterpart. Bloomington's TJ Riggs and his Bloomington Teammate Jeremy McDavis got the West going early as they jumped out to an early lead. McDavis scored all 8 of his points in the first half.  He was quickly joined by Urbana's Deonta Jones and Rantoul's Shawn Lauderdale who both put up 11 first-half points. Manual's Andrew Jordan and Central Catholic's Ryan Schmidt worked hard to keep the East in the game as the West went up 68-60 at halftime.
In the second half the East mounted a comeback thanks in large part to Peoria Central's Darian White and Deontray Dorsey. Levi Williams also played with strong dribble penetration and created for his teammates. For the Eest, Lawrence Kinney and Cole Jackson established themselves with strong outside shooting. As regulation came to an end, Ryan Schmidt hit a big 3-pointer to tie the game, and eventually sent it to overtime.
The game remained close in overtime. Timely shooting from Dalton Temples of Paris and gutsy play from Blue Ridge's Jack Plunk were not enough to defeat the West 129-125. Darian White was the game's high scorer with 36 points, and was named Most Outstanding Player.